Online Business Strategy, Small Business Tips
Improve Your Online Visibility
Nobody puts Baby in a corner.
What is Online Visibility?
The ability for your website to be found via the internet. Usually referring to users who are looking up topics and don't already know your brand or URL.
Why is Online Visibility Important?
Lately, Google's been all about something they call 'micro-moments'. Micro-moments are the multiple interactions that consumers have with brands when they are looking for products or services.
Google's research has shown that 82% of smartphone users consult their phones on purchases they are about to make. They also found that a staggering 91% of them turn to their phone for direction in the middle of a task. These small touch points are critical in today's customer journey. They are stepping stones that dictate the customer's destination.
While your potential customers are doing their online research you need to make sure your brand has the resources they need and that they're easily accessible.
SEO Is One-Third of Online Visibility
You need your content optimized for search engines and there are so many SEO tools and resources out there that you may not need to hire a professional SEO.
Online visibility, however, is more than just optimized content. You need a breadth of helpful content that customers are looking for as well as a healthy handful of outside links. Valuable content can include information, images, diagrams, statistics and shareable content, the last of which helps build your links.
Your website needs to:
Have a broad net of information
Have unique content worth reading and sharing
Solve your audiences' problems or questions
Provide the products or answers that they are looking for
How To Check Online Visibility
Any ranking is better than no ranking, you've got to get a baseline to work from. Google Webmaster Tools is the best way to see what search terms your website is showing up for. You only need to sign up with a google email address and place a tracking code on your website and you are good to go.
The image below is the Search Console in Google Webmaster Tools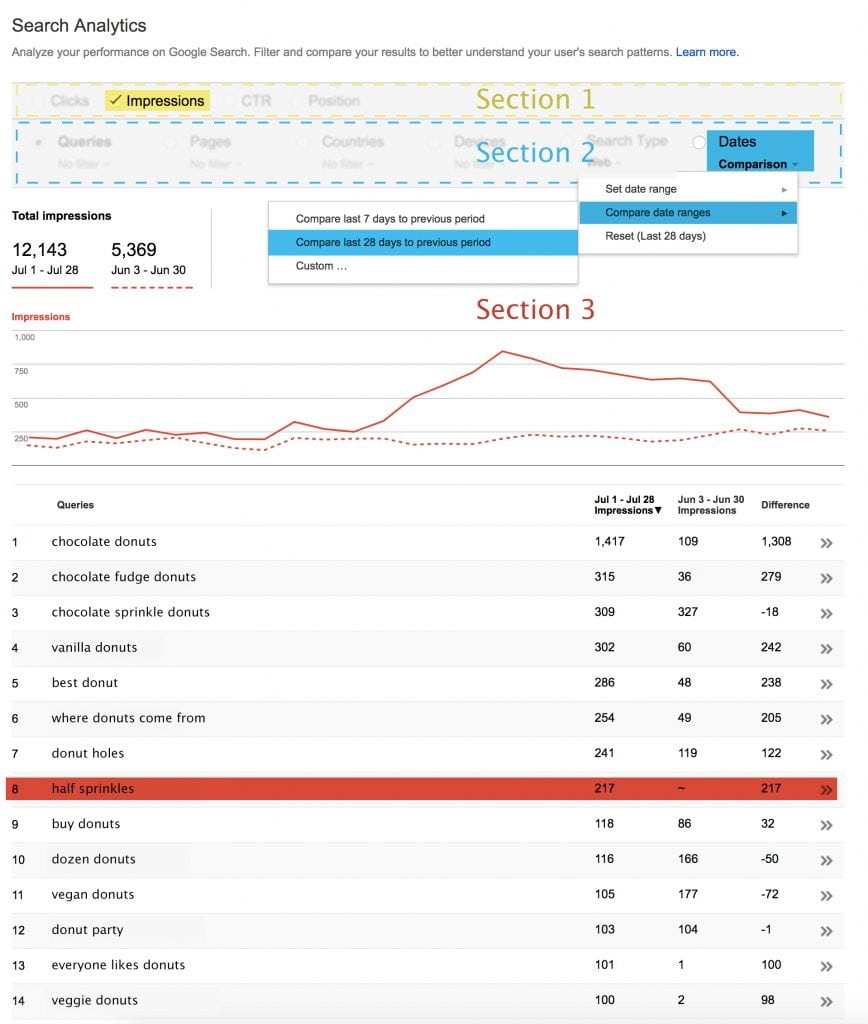 Setup Your Dashboard:
In Section 1: Select "Impressions".
Impressions are the number of times that your website has been listed on a SERP (Search Engine Results Page).
In Section 2: Hover over the "Comparison" option under "Dates". Then hover over "Compare Date Range" and select your date range.
In Section 3: You will see the search terms (keywords) and how many times your website was in the listing. Note: the search terms with the tilde(~) are new search terms!
This dashboard is going to be your main report to track your online visibility. Reference it monthly to keep your marketing strategy on track. Higher impressions and more tilde's mean your website visibility is increasing.
How To Increase Online Visibility
We mentioned SEO, but you have to think about widening your net. The Moz Keyword Explorer and the AdWords Keyword Planner are invaluable for finding search terms to build content around.
Moz Keyword Explorer
Moz gives you their best guess of 1,000 keywords based on your input. This gives you new ideas for related terms that you may not have been able to think up on your own. For example, when I entered 'chocolate donut' I got a list filled with useful search phrases like 'donut recipe for kids' and 'dairy free donuts'. I can easily create some content around these search terms and therefore have a chance for showing up in SERPs.
AdWords Keyword Planner
AdWords gives you information for search terms being targeted by paid ads. You can see the estimated cost per click as well as the competition score for those search terms. It's great insight into what your competitors are targeting and what they are ignoring.
Common Pitfalls
The best tactic for increasing your online visibility is to consistently add value to the internet knowledge base. Make a list of the most applicable search terms and start creating!
Check Your Ego Amigo
'Ego Keywords' are those search terms that you just have to rank for. Your CEO stays up late obsessing about your ranking for 'bakery' and 'donut shop'. They are the keywords that every other bakery CEO is obsessing over too.
Don't ignore ego keywords, but there's no reason to obsess over them. After all, they may not be the highest converting search terms or they may be ridiculously competitive and expensive to target.
It's much more effective to build your website authority by branching out with diverse, but related, search terms which will flow their rank into your domain name. In time, you will rank higher and higher for your ego keywords.
With just those two free tools you can track your online visibility and outline a consistent marketing strategy that works.
In the words of LeVar Burton, you don't have to take our word for it.
Columnist Andrew Dennis used exactly these tactics and managed to grow from 0 visitors to 100,000 visitors a month.
Other Suggested Posts