it's all about your story
Tenth Muse are Brand Building Experts

Stop guessing, it's time to aim with accuracy and apply your marketing budget with confidence. We exist to help you prosper. As your Muse, we are your partner, advocate, and source of brand inspiration.
We're your brand specialists comprised of strategists, designers, developers, and marketing/advertising professionals to help you take aim and launch into Smart Growth.
What's a Tenth Muse?
Grab your toga…
In ancient Greece, there were said to be nine Muses. They were the daughters of Zeus and as creative entities, they inspired the masses to help humanity progress and grow to new heights.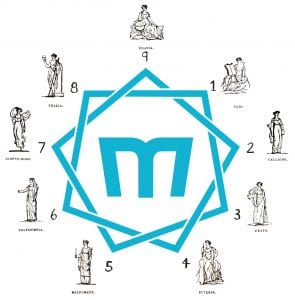 Shakespeare coined it…
He gave his colleague the ultimate compliment by telling him that he was the Tenth Muse, for he united and rose above those old nine into one source of inspiration, for he was inspiration itself.
We are that Tenth Muse applied to today. We are an advocate for your progression. Your trusted guide and source of inspiration for your brand to prosper. We are the merger of creativity, logic, technology, and business savvy.
We're Organized to CREATE Impact
Every business/audience requires an ocean of knowledge and a customized approach. We've nurtured relationships in our industry to identify top performers that are niche-specific and leverage those connections to your advantage. Your team is hand-selected to provide impact.
Our network extends further than our internal Muses. The Muse Collective extends our branding knowledge into niche advertisers, vendors, and marketers that know how to market to your target audience better than anyone else. You get the best of both worlds: a brand-focused agency to help define and communicate your intention, and niche marketers to help get the word out in the most efficient and effective means possible.
Think of Tenth Muse as your symphony conductor, overseeing and bringing the instruments into harmony and ensuring that your brand is built to live long and prosper.
View Our Portfolio
Adaptable to Fit Your Structure
There is no "one size fits all" at Tenth Muse. Whether you're needing to outsource your marketing efforts, or need a team to help develop or execute your strategy, we adapt to your needs and fit in where you need it most.
Regardless of our role, we take the time to get to know you intimately. We're ready to stand by you in executive and board meetings and are always ready to discuss your next pivot.
Finally, a Branding Agency with Business Savvy
Our strategists are seasoned business professionals, not just marketing experts. With experience in process development, and financial/operations management, we are able to apply your brand to your internal culture and operational processes as well as create opportunities.
We are interested in helping you create a superior customer's experience throughout the entire client lifecycle. Most marketing teams only know how to say hello.
Let Us Strategize With You

Creative Director
Kelly Lust
With over 20 years of graphic design and marketing experience, Kelly has created a multitude of successful branding campaigns and websites for hundreds of clients in diverse industries. She has worked as the Creative Director for 6 years for a web-focused marketing agency in Northern Colorado. She also has experience working in a large format print shop and has experience working with physical collateral.
She split off from her agency and started Tenth Muse Design 8 years ago. She offers effective designs that accomplish client goals efficiently, within budget and has a track record of overly satisfying her customers' expectations.

Development Diety
Jason Williams
Jason has been developing websites for over 12 years and has a B.S. in Information Technology. In addition, he is A+ certified in project management, database administration, security, networking, and web development. He has coded hundreds of websites and has been involved in many other roles including sales, design, project management, quality assurance, and network administration.
Most recently, he has fulfilled on contract work with a well-known company called Modern Tribe and worked on projects for clients such as Forbes, Eventbrite, Stanford University and Columbia Law Review. Before his career in IT and web development, he owned and operated a restaurant for over 10 years, and has been a business entrepreneur for 25 years.